Panel Discussion IV
At the Edge of Reality
Sat, 11 Sept 2021 
2pm – 4pm HKT II 8am-10am CET
Moderated by:
Speakers:
Theodora BARAT (FR)
Synthetic Suburbia 
Kattie FAN (HK) 
FindingEva
Jonathan KEMP (UK, AU)
Untitled
Alexey MARFIN (US) 
Kowloon Forest (Excerpt)
Kingsley NG (HK)
Letting Go
Royce NG (AU, HK) x
Alvaro CASSINELLI (UY, HK) 
The Polyphonous Avatar
Dr. Elke REINHUBER
SCM, CityU HK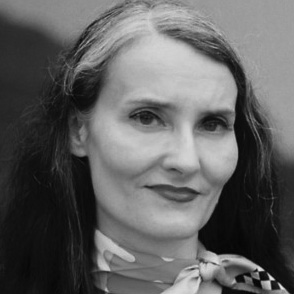 Elke REINHUBER is a media artist, educator and researcher, currently living in Hong Kong and working at SCM CityU. In her work she explores different modes of presentation and strategies of storytelling to emphasise the parallel existence of multiple truths of the here and now, anchored in expanded photography and spanning into several disciplines such as time based media, immersive environments, Augmented and Virtual Reality as well as performance. Her artistic research was presented internationally, at conferences, exhibitions and festivals. 
Barat's artistic approach combines film, sculpture and installation. She examines modernity figures in order to question our future. Her work has been shown at Sunken Plaza – K11 MUSEA, Emily Harvey Foundation, Elizabeth Foundation for the Arts, Cneai=, Nuit Blanche, Friche la Belle de Mai, Vilnius Contemporary Art Center ; Palais de Tokyo, Centre Pompidou, Boston Fine Arts Museum, as well as in several international film festivals. She will be in residency at Villa Medici during 2021-22.
As a double master degree holder with background in creative media and cultural studies, Fan is a curator and producer specialized in media arts and cross-disciplinary arts. Currently the festival director of ifva, Hong Kong Arts Centre, her projects include "ifva Awards and Festival" (2009-), "Cinema 2.0 Exhibition" (2010-), "Chroma 11" VR dance film experience (2021), "ifva Everywhere Carnival" (2016-2020), "Indie is… Hong Kong Independent Short Films 1995 – 2014" (2015), "Animation Lab" (2012), "Bloomberg Emerging Artist Programme and Exhibition" (2008), etc.
PhD. Born 1988 in The Netherlands. Currently based in Tokyo. Ruijters focuses on the phenomenology of intimacy and ethnic identity. Through his art he explores how contemporaneity shifts and modifies these phenomena. In his work overstimulation, speed and coldness of contemporary systems clash with the artist's need to cherish and express what is deeply human. Physicality, materiality, technology, interaction, and the sense of touch are fundamental elements of his practice. 
Kemp defracts technology in solo/collaborative material-gnostic outputs including workshops and performances, installations, experimental communicative systems, and social software events, executed across Australia, Brazil, Europe, Japan, Taiwan and the US. Media art projects include Psychogeophysics, The Crystal World, and Shift/Register, all explorations of how the earth, technology and psyche under/overwrite and détourn each other, supported by international art-orgs and critically acclaimed in the literature. 
Marfin is a film director interested in life in cities, making films between Los Angeles and Hong Kong. His films have screened worldwide, from Busan Film Festival to Brooklyn Film Festival. His VR film Kowloon Forest won Best Live Action VR at the 2020 Vancouver Film Festival. He has been acclaimed in Western and Asian media, including VICE, NOWNESS, Ming Pao Weekly, City Magazine HK, RTHK, and others. Alexey also teaches the Fiction & Entertainment postgrad program at SCI-Arc in LA. 
Ng is an inter-disciplinary artist and designer with a focus on site-specific and participatory projects. His creative practices are driven by a belief that art can be socially relevant and transformative. His work has been shown to critical acclaim at prominent international venues such as Guangzhou Triennial, the Shanghai Expo, the Echigo-Tsumari Art Triennial Japan, Milan Design Week and various exhibitions in France, Italy and Australia. He is the recipient of the Hong Kong Arts Development Best Artist Award (Media Arts) in 2013, and a Hong Kong Contemporary Art Biennial Award in 2009.
Ng is an artist currently based in Hong Kong working in digital media and performance who deals with the intersections of modern Asian history, trans-national trade, drugs, political economy and aesthetics. His works were featured in the 2019 exhibition 'Phantom Plane: Cyberpunk in the Year of the Future' at Tai Kwun Contemporary in Hong Kong and in 2020, he will have his first solo presentation in Japan with 'The Death of Manchuria…' at ASAKUSA in Tokyo. In 2021, his works will feature in the Shanghai Biennale XIII. 
Born in Uruguay, Cassinelli is an equilibrist walking the thin line between Art and Science. He co-founded and led the Meta-Perception group at the Ishikawa-Oku Laboratory, University of Tokyo – a research group specialized on interfaces for expanding the vocabulary of HCI and media arts. He is presently Associate Professor and co-founder of the XRL/AM (Extended Reality Lab, Augmented Materiality Group) at the School of Creative Media in Hong Kong. Awards includes the Grand Prize [Art Division] (9th Japan Media Art Festival), Excellence Prize [Entertainment Division] (13th Japan Media Art Festival), Honorary Mention (Ars Electronica), NISSAN Innovative Award (2010), Jury Grand Prize at Laval Virtual (2011) among others. 
---
---
CREDITS
Chair: Maurice Benayoun


Curator: Ann Mak


Panel coordinator: Sophie Zhang Yu Jia

Panel assistant: Charlie Yip
Production: Neuro Design Lab, ACIM, SCM, CityU HK